Best Locations for Photography in Pittsburgh
What are the best Pittsburgh photography locations?
My 10 favorite locations for wedding and engagement photos in the Pittsburgh metro area are:
Mellon Park Walled Garden
Point State Park Fountain
The Allegheny Landing
The Pennsylvanian
Phipps Conservatory
Point of View Park
Mellon Institute
Frick Park
The Strip District
Mellon Green and Mellon Square park
Bonus location: Your Special Place!
Here are some of my favorite photos from these locations and a bit more information regarding timing, coordinates and cost!
Mellon Park Walled Garden
Meeting address: 1047 Shady Ave, Pittsburgh, PA 15232
Mellon Park is my favorite location for wedding and engagement photo sessions in Pittsburgh. The park is conveniently located at the corner of Shady and Fifth Avenue and offers a great mixture of urban and nature backgrounds that work in all seasons.
---
Point State Park Fountain
Meeting address: In front of the Wyndham Grand. Park at the Gateway Center Park.
When the fountain is working (May to October), this location offers one of the most stunning backdrops in Pittsburgh. This a great spot to end a session; my favorite time to photograph is right at sunset and during twilight. Also, if you are a Steelers fan, this is one of the best places to catch the stadium right behind you!
---
The Allegheny Landing
Meeting address: Roberto Clemente Statue on Sixth Street
Hands down the best cityscape backdrop in downtown Pittsburgh. I love photographing here right at sunset and during twilight, but this location works all day long and all year long. In addition to the city view, it's a short walk to the Clemente Bridge (closed to cars until 2023) or the Andy Warhol Bridge to capture the iconic Pittsburgh bridge photo.
---
The Pennsylvanian
Meeting address: 1100 Liberty Ave, Pittsburgh, PA 15222
Permit fee: Starts at $125
This is a fantastic indoor photo location for engagement or wedding photos (usually only available on weekdays). The Rotunda and Ballroom are an absolute delight to photograph all year long. Also, consider this location if you are from out of town and want to make sure you have your session regardless of the weather (not that Pittsburgh weather is bad or anything ;). Check out more wedding photos at The Pennsylvanian.
---
Phipps Conservatory
Meeting address: 1 Schenley Drive, Pittsburgh, PA 15213
Permit fee: Starts at $300
Here is another iconic location in Pittsburgh. The Broderie Room provides a stunning live backdrop for your photos. Weather permitting, the Japanese Garden and Outdoor Garden are also spectacular. In addition to these reservable locations, the area outside Phipps is great for sessions from May to November.
Find more Phipps Conservatory wedding photos here.
---
Point of View Park
Meeting address: 1435 Grandview Ave, Pittsburgh, PA 15211
Best view of the city! Also, if you ever have an early morning session, consider this location as the light here is unreal!
---
The Mellon Institute
Meeting address: 4400 Fifth Ave, Pittsburgh, PA 15213
Definitely one of the most popular photo locations in Pittsburgh. On Saturdays, be ready to get in line for your turn at its magnificent columns. It's definitely a stunning location all year long, especially for rainy days. However, if you have a tight timeline it is better to skip it.
---
Frick Park
Meeting address: 2005 Beechwood Blvd, Pittsburgh, PA 15217, in front of the Environmental Center.
Frick Park holds a special place in my heart; I've been hiking its woods for the past 10 years. This is a favorite location for nature lovers. In my opinion, this location works best on summer, autumn, and snowy days. Bring comfortable shoes and get ready to get muddy.
---
The Strip District
Meeting address: 2101 Smallman St, Pittsburgh, PA 15222 (Meet at the Terminal)
The Strip District offers a great array of colorful backdrops perfect for city dwellers. Walking around the strip is ideal for those looking for a mixture of street art, colorful walls, classic coffee shops and train tracks.
---
Mellon Green and Mellon Square
Meeting address: 501 Grant St, Pittsburgh, PA 15219
These two urban parks in downtown Pittsburgh make for perfect wedding photos. The locations are small but dynamic, with multiple possibilities for small and large bridal parties.
Your Special Place!
Choose a location meaningful to you as a couple. An ice cream or coffee shop, your apartment, your neighborhood, your school campus, etc. You will shine in the places that make you you! Also, don't forget about your wedding ballroom! This gorgeously decorated space can create stunning photos before guests arrive.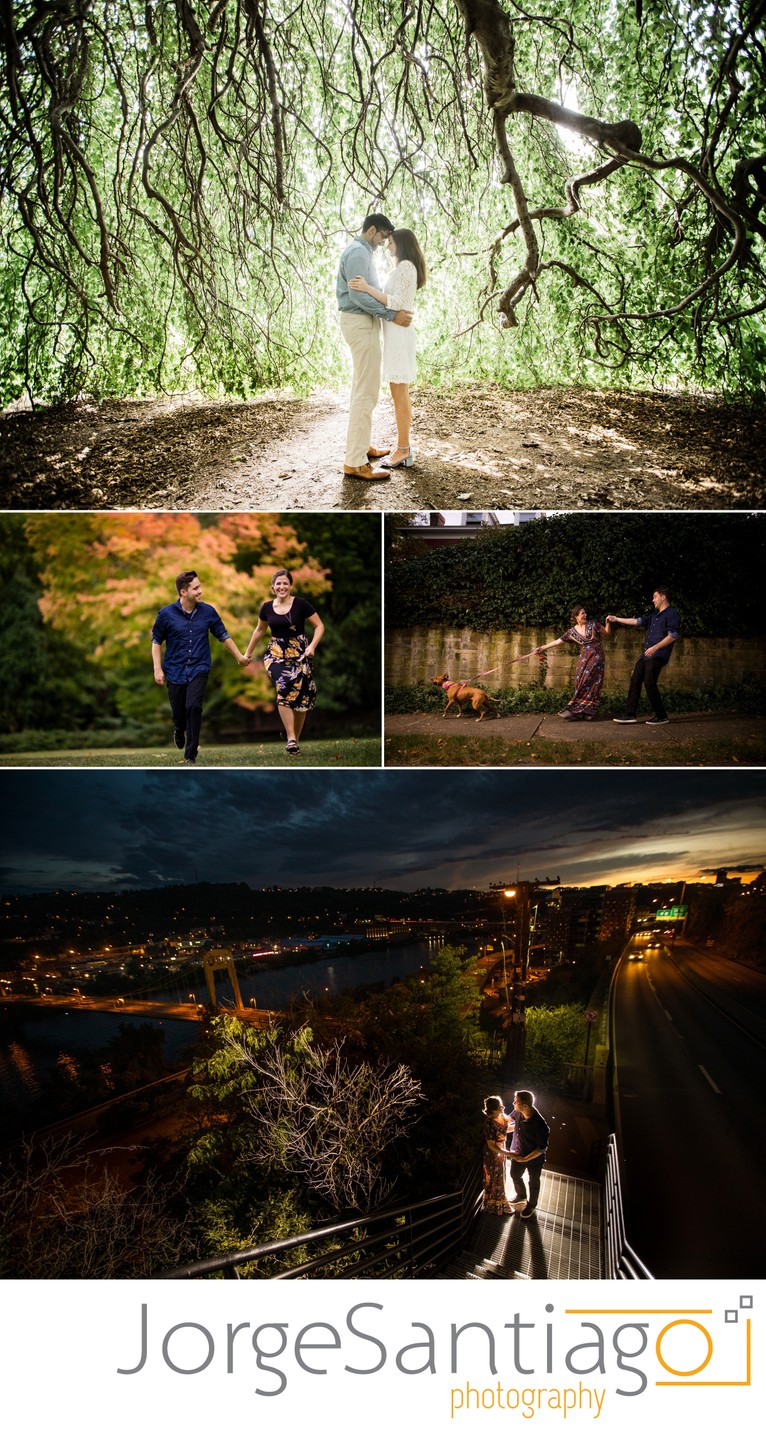 ---
Follow me on Instagram: