Fine Art Prints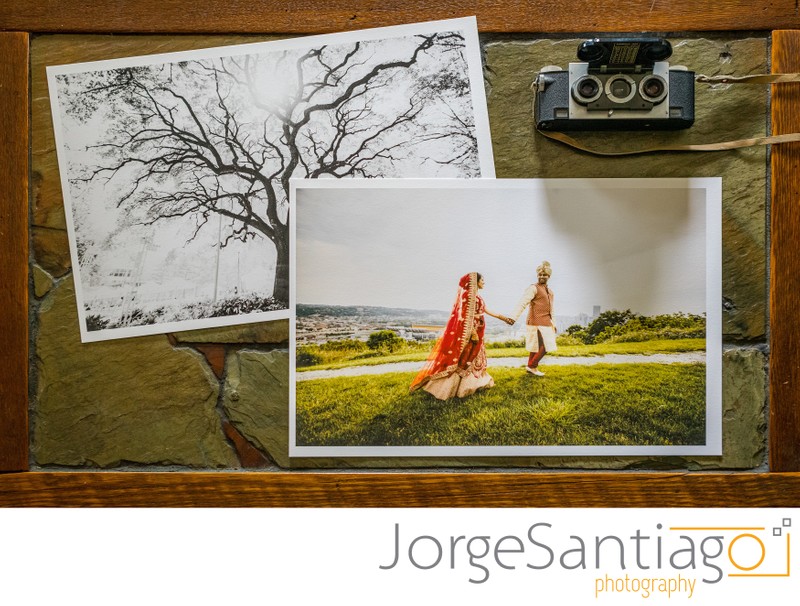 "The negative is the equivalent of the composer's score, and the print the performance." -Ansel Adams.
I believe what really hooked me to photography was witnessing the magic of printing photos in the darkroom. I would project the negative from the enlarger onto the paper, visually analyze it and decide on the amount of light to "give it", dodge it and burn it, and then submerge the paper into the dektol. That's where the magic happened. The image would start appearing slowly, bathed by the darkroom's red light, ready to become an heirloom passed on through generations.
Since 2020, I'm proud to offer custom Fine Art Prints in Pittsburgh. I currently work with Hahnemühle papers and Epson UltraChrome HD inks, both rated to last in excess of 200 years in archival conditions.
Through the years, I have realized that printing your photos, either for display or to start a family archive, is the best way to preserve and pass on your favorite memories. Fine Art Prints are fine tuned and printed in-house by Jorge Santiago.
Print Sizes:
We all are familiar with the popular 5x7, 8x10 and 11x14 print sizes. Unfortunately, the aspect ratios of these print sizes are not proportional to the aspect ratio of modern digital cameras. For instance, to be able to fit a digital image on an 8x10 canvas, some cropping must occur. Leaving parts of the image out is not something I like seeing when I put so much effort into framing the perfect image in camera. For modern digital images, I recommend the following sizes: 4x6, 8x12, 12x18, 16x24 and 23x36.
Print Framing:
I recommend custom archival framing for fine art prints. Using an UV Protective Acrylic, acid-free foamcore backing and acid-free matt is the best way to ensure the print's longevity. For this part, I always recommend taking your print to your local framesmith. However, I also have a list of online providers I have worked with and recommend.
Paper Types:
Hahnemühle papers are by far my current favorite. I currently have the following one in stock:
Bamboo -290 gsm - 90% bamboo fibers and 10% cotton

Hahnemühle Bamboo is the world's first FineArt inkjet paper made from 90% bamboo fibers, for a natural look and environmentally friendly paper production. The natural white, warm-toned bamboo paper does not contain optical brighteners, and stands out thanks to its soft, lightly textured felt structure and sensual feel. The matt premium inkjet coating delivers excellent printing results with defined reproduction of color and detail, particularly for warm hues and monochrome prints. Bamboo is acid- and lignin-free and meets the most precise requirements in terms of age resistance. The unique combination of sustainable bamboo fibers, soft surface texture and impressive print quality gives the artwork outstanding expression and soul.
Photo Rag Satin (310 gsm - 100% Cotton)

Hahnemühle Photo Rag Satin is an exceptional paper. It lends Fine Art prints a highly individual character. The white cotton paper features the classic Photo Rag surface with a delicate felt structure and a beautifully soft feel. In combination with the satin-gloss premium inkjet coating, it produces outstanding prints with a beautiful sense of depth and three-dimensional quality. Colors and details are perfectly reproduced, the depth of the black truly stands out and contrasts are reproduced with stunning effect. Photo Rag Satin is characterized by its very unique coating. The printed areas have a soft sheen, while the unprinted areas remain matt to beautifully accentuate brilliance. Photo Rag Satin is acid- and lignin-free which meet the most exacting requirements in terms of age resistance.
Photo Rag Metallic (340 gsm · 100% cotton · high-gloss metallic finish)

Hahnemühle Photo Rag Metallic is a silvery-shimmering FineArt inkjet paper with a specially formulated inkjet coating for FineArt use. The natural white cotton paper contains no optical brighteners and has the characteristic Photo Rag surface structure and sumptuous feel. Photo Rag Metallic features a special silvery-shimmering surface finish. The high-gloss premium inkjet coating with a unique metallic effect guarantees impressive printing results with bold colors, deep black and the perfect reproduction of color and detail. The sophisticated silver metallic effect underscores the image and makes motifs with metallic elements, reflections, ice and glass, architecture and landscape shots, as well as black and white photographs with high-contrast tones shine. Photo Rag Metallic is acid and lignin-free and meets the most exacting requirements in terms of age resistance.
Order a sample today! Please leave add a note with image filename as it appears in your private gallery or send the file to jorgesantiagophoto@gmail.com together with your order number. Thanks!